The Milkshake Collection : Essential Accessories for your dog
03 Oct, 2021
0 Comment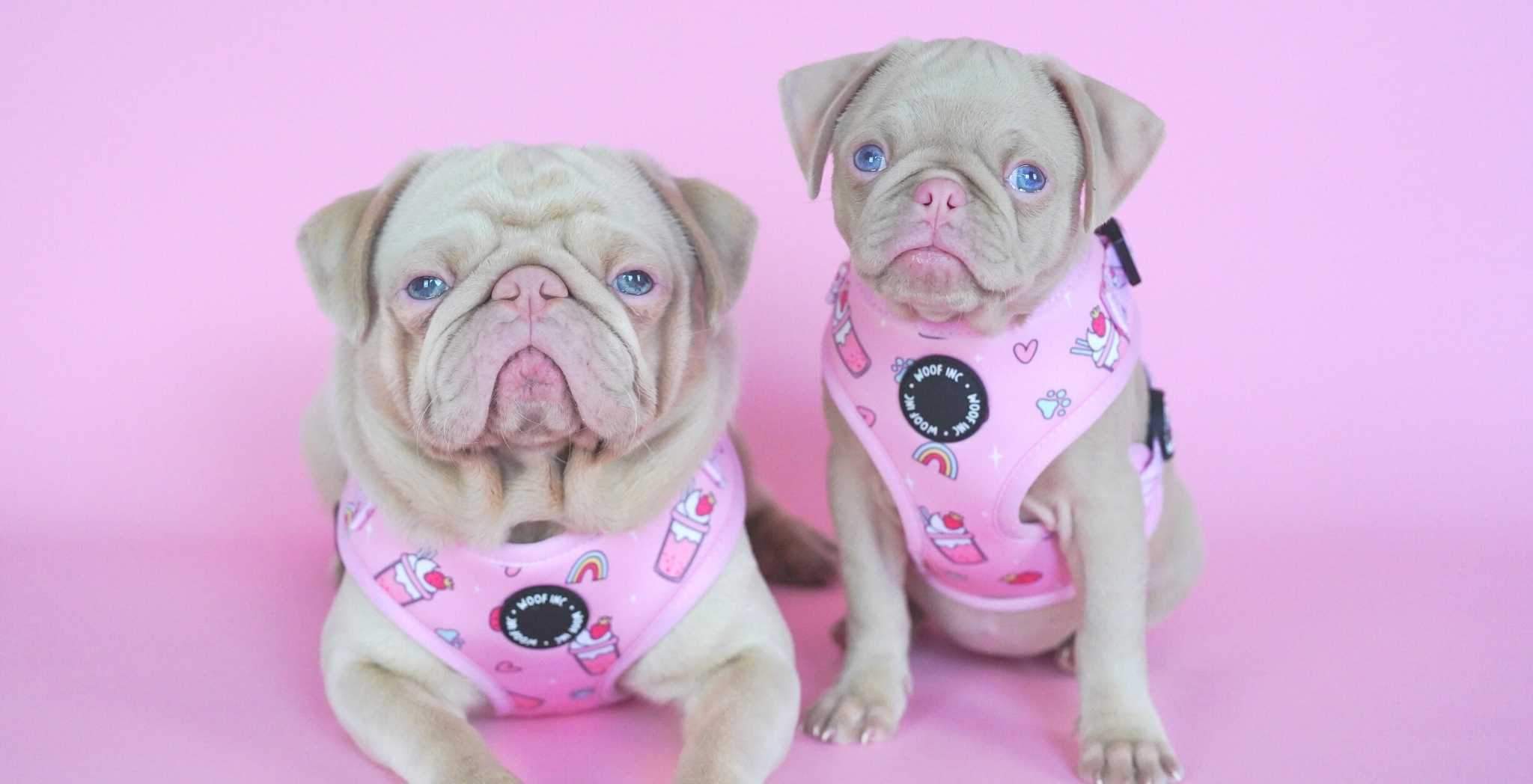 I am so excited to team up with small UK dog business, Woof inc, to design my own collection of dog harnesses, dog collars, and bows with my signature pink style! The Milkshake collection features the cutest dog walk essentials with milkshakes, strawberries and sprinkles a plenty! As a pink pug, I don't think you would have expected anything less! I wanted to create a collection that was happy, cheerful, food themed (because who doesn't love snaccies) and pink because I can never find enough pink dog clothes and accessories. If you want to feel pretty in pink in my new harness, make sure you use my code MILKSHAKE10 for a 10% discount.
I decided to take Cookie with me to the Chelsea in Bloom exhibition in London last week to try out the collection so I could make sure it was perfect and practical before launch. As you can imagine, as two pink pugs at a flower show we got stopped, photographed and complimented a lot! It made me so proud to be able to tell everyone that the harness collection was my own Milkshake x Woofinc collaboration!
We both wore the Milkshake collection harness and leash while checking out all the beautiful flower installations along Kings Road, Sloane Street and Sloane Square. They were comfortable and the leash was the perfect length to let me walk at a steady pace without any tugging. The harnesses are adjustable at the neck and around the waist in case you have a few extra rolls to squeeze in. I have a 40cm neck and 55cm chest and wore a size small whereas Cookie being much smaller, has a 22cm neck, 32cm chest wore an extra small. After a few hours of walking around the streets, the harnesses picked up a little dirt so when we got home Mami popped them in the washing machine on a gentle, fast cycle and they came out bright and looking as good as new!
As a pug, it is safer and more comfortable for me to wear a dog harness instead of a dog collar so that it doesn't affect my breathing. I would also recommend that if you have a pug, bulldog or French bulldog that you opt for the Milkshake harness instead of the collar. With the adjustable features around the harness neck and belly with easy plastic closures, and the soft harness fabric, this won't rub on your dog and irritate their skin.
If you would like to try out the Milkshake collection, you can use code MILKSHAKE10 for a special 10% launch discount! You can purchase on my website. I would love to hear in the comments below which item you decided to buy. Make sure you don't forget to tag @milkshakethepug in your photos on Facebook and Instagram or you can email me your photos to business@milkshakethepug.com for a special blog feature next month!