The Best Pumpkin Patches in Norfolk: A Tale of Paws and Pumpkins
31 Oct, 2023
0 Comment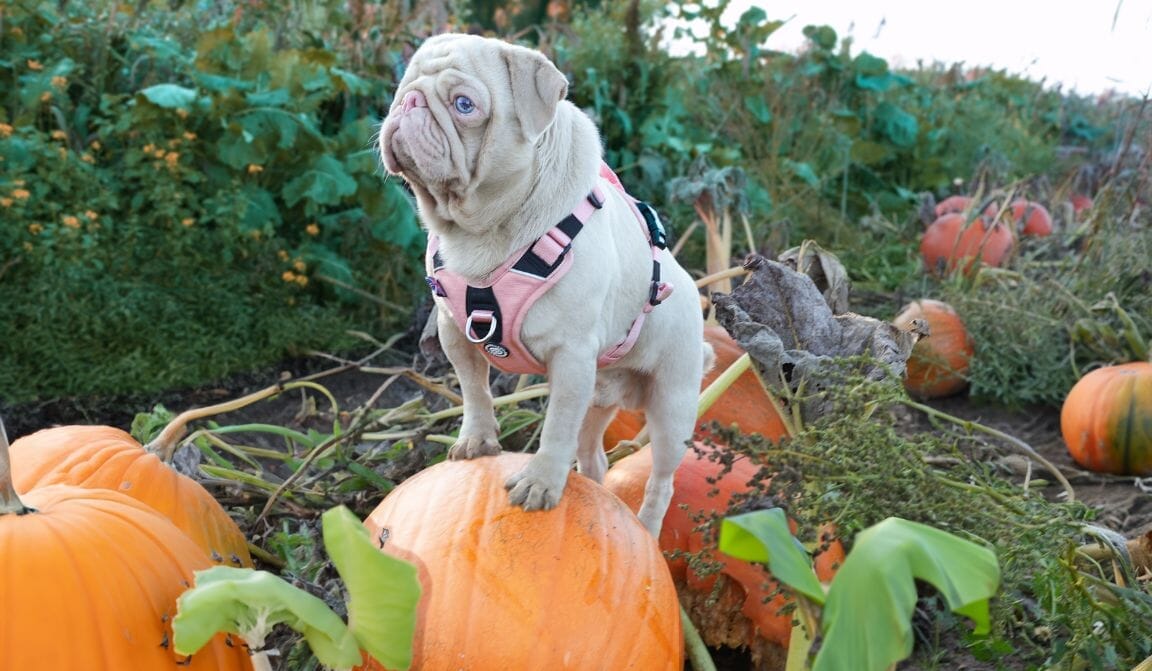 If you are a Halloween loving adventure seeker, this one is for you! Milkshake, Dumpling and I recently embarked on a pawsome journey through the picturesque pumpkin patches of Norfolk. Curly tails were wagging with excitement as we explored the charming Pumpkin House in Fakenham, the friendly Algy Farm nearby and last but in no way least, the bustling Mrs G's pumpkin patch near Thetford. Whether you're a local or planning a visit to Norfolk, read on to find out how these dog-friendly destinations can make for an unforgettable day out with your furry friend.
Pumpkin House in Fakenham: A Family and Dog-Friendly Delight
Our first stop was The Pumpkin House in Fakenham. This charming attraction is not only family-friendly but also warmly welcomes your four-legged companions. The best part? There's no entry fee, making it an accessible outing for all.
While it may be relatively small experience, there are lots of instagrammable moments that make up for it. As you stroll through, you'll find a variety of food and drink trucks, creating a festive atmosphere. You will find countless pumpkin props, wheelbarrows, and hay bales, providing the perfect backdrop for memorable photos with your pups.
Kids will have a blast in the play area crafted with hay bales, and there are two adorable pumpkin houses to explore. While you can't pick your own fresh pumpkin from a field, you can select any pumpkin from the shelves of the pumpkin house, and a friendly staff member will promptly replace it with a fresh one.
Milkshake and Dumpling had a blast posing amidst the pumpkins, decked out in their adorable Pumpkin Spice bandanas from The Dotty Dog Company. This UK-based company, known for its stylish dog accessories, also offers fresh Christmas and Winter designs for your furry friends, which you can find on their Etsy shop.
Mrs G's Pumpkin Patch in Thetford: A Pumpkin Wonderland
Our next adventure led us to Mrs G's Pumpkin Patch in Thetford, a hidden gem for those seeking an authentic pick-your-own-pumpkins experience. If you're looking for an authentic PYO pumpkin patch experience then this is it!
The entry fee here is a couple of pounds per person, and you can grab a wheelbarrow to start your pumpkin-picking journey. The path leads to the main seating area, illuminated by enchanting string lights and surrounded by food and drink trucks. The variety of food vendors ensures you'll find something delicious to satisfy your taste buds.
The pumpkin patch itself is a wonder to behold. There are strategically placed photo areas, including a charming bench surrounded by hay bales and a vast sea  of pumpkins. The heart of the field boasts a painted boat with oars, clusters of hay bales adorned with pumpkins, a unicorn pumpkin on a stake, and wheelbarrows filled with plump pumpkins ready for carving.
If you're looking to pick your own pumpkins, you won't be disappointed. The pumpkin selection is vast, and you can take your time deciding which one is the perfect addition to your autumn decor.
Algy Farm: Pick your own Pumpkins and Dog-Friendly Vibes
Our last stop was Algy Farm near Fakenham, another dog-friendly destination. While it's smaller in scale, it offers a unique photo opportunity with pumpkins spelling out "Algy Farm." The creative arrangement makes for an enchanting backdrop for your doggy and pumpkin-themed photos.
Algy Farm also allows you to pick pumpkins at your leisure. So, if you're a fan of that classic pick-your-own experience, this spot is worth a visit.
The Benefits of Pumpkin for Dogs
We couldn't forget to mention the benefits of pumpkins for our furry friends. Pumpkin is not only delicious but also healthy for dogs. It's a great source of fiber and can help with digestive issues. So, if you have any leftover pumpkin from your adventures, consider roasting a pumpkin in the oven and adding to your dog's dinner.
If you have a little more time and are in the mood, check out my Halloween recipes for Dog-Friendly Pumpkin Spice Latte'. As it's spooky season, you might want to take a look at my Halloween Tombstone treats, and Banana Boos for some delightful ideas to treat your pups while you're at it! Your fur baby will thank you for it!
Spooktacular Merchandise and More
Don't forget to visit Milkshake's shop, where we have limited edition Halloween merchandise, including keychains, stickers, and washi tape, to make your celebrations even more special. These goodies make for great souvenirs or gifts for fellow dog-loving friends. 
Conclusion
Norfolk's pumpkin patches offer not only fresh pick your own pumpkins but also unforgettable experiences for you, your family and your dog. The Pumpkin House in Fakenham, Mrs G's Pumpkin Patch in Thetford, and Algy Farm near Fakenham each have their unique charm and are worth exploring.
So, leash up your furry friend, grab your camera, and set out on a dog-friendly adventure through Norfolk's pumpkin wonderlands. With pumpkins galore and picture-perfect settings, your day will be filled with wagging tails, and unforgettable memories.
From Milkshake and the pink pug grumble, happy pumpkin-picking and tail-wagging adventures! xo.