Travelling with your dog this summer in the UK
20 Jul, 2021
2 Comment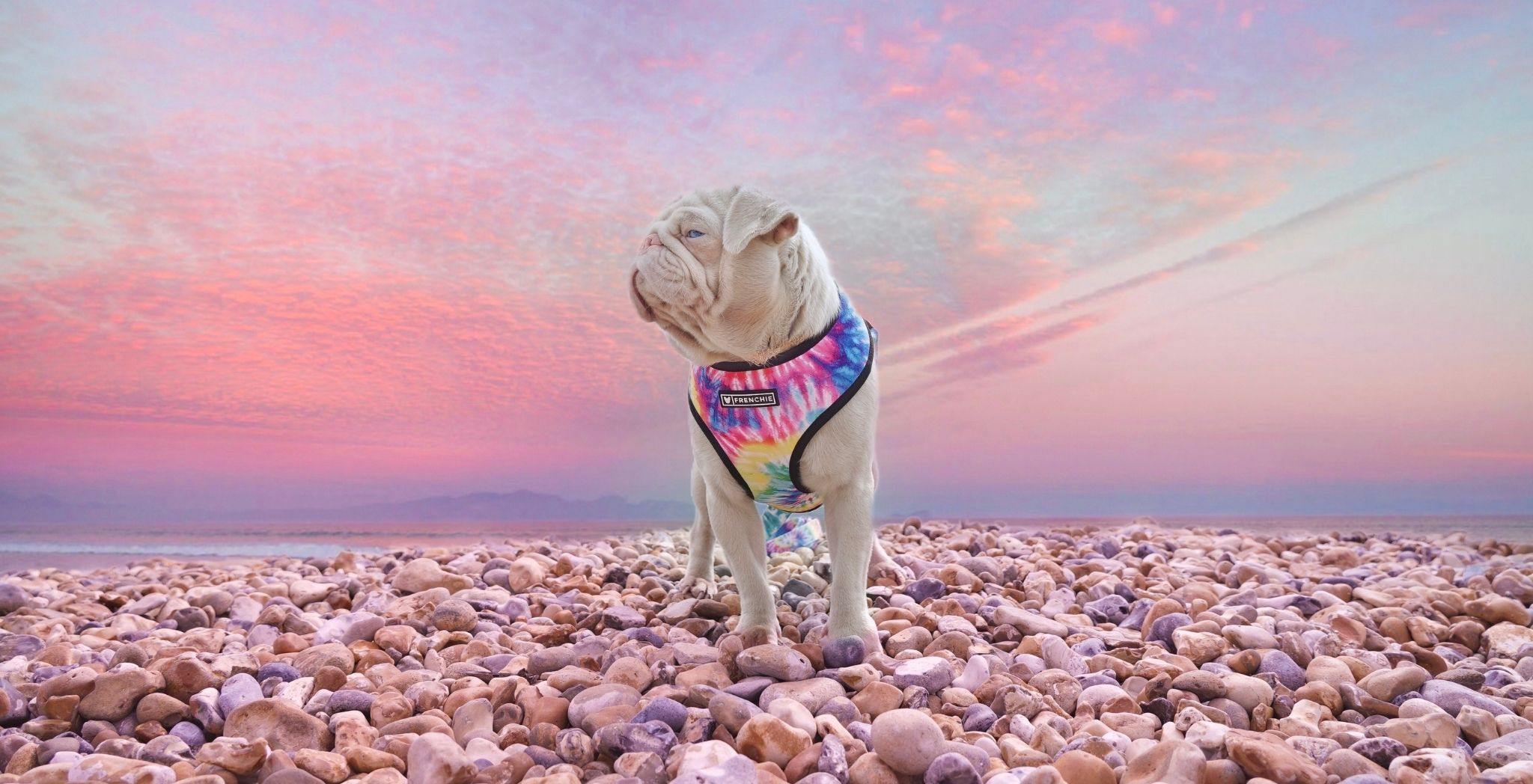 The weather is heating up fast here in the UK and it's time to turn those daily dog walks into something a little more fulfilling for you and your pup. There are plenty of great destinations in the United Kingdom that accept dogs as valued guests, and even more wild and natural areas where you can let your dog off their leash for an hour or two. 
Dog-friendly beaches
Thankfully, there exists several beaches in the UK that welcome dogs to their shores. Listing them all here is maybe a bit much, but we can at least point you towards the more favourable ones that exist. These popular dog-friendly beaches allow dogs all year round, even outside of the summer period – though you can expect it to be much busier during the summer months.
Beaches in England
Watergate Bay, Cornwall, England
One of the best pet-friendly beaches in Cornwall is Watergate Bay. You can find Watergate Bay just three miles outside of Newquay, facing the northwest. Thanks to its location, Watergate Bay gets great waves for surfers (or for paddleboarders that have space to bring their dog).
The nearest town is Newquay, which means that you'll be right next to several other beaches and plenty of accommodation options. Dogs are allowed at Watergate Bay every day of the year.
Newberry Beach, Devon, England
Found on the coast of Combe Martin in Devon, Newberry Beach has absolutely no dog restrictions. However, unlike Watergate Bay, it doesn't have a lifeguard service, so be sure that you and your pup are strong swimmers before you head past the shallows of the water.
There's plenty of little areas to explore on the beach and it's great for rock pooling. The scenery is absolutely beautiful for a pebble beach.
Kingsgate Bay, Kent, England
Less than a mile away from three other beaches, Kingsgate Bay is noted for the high, white chalk cliffs that overlook it and the sea caves that are considered some of the best in England. There may be no lifeguard service at Kingsgate Bay, but it's such a popular family location that you and your pup will be safe to explore this dog-friendly beach.
Strangely enough, it's also the quieter of the four beaches in the area, so it could be better if you have a dog that isn't great with huge numbers of people around.
Beaches in Wales
Barafundle Bay, Pembrokeshire, Wales
Considered one of the ultimate dog-friendly beaches in Wales, Pembrokeshire's Barafundle Bay is an almost perfectly formed area of golden sands. The beach has been featured in multiple pieces of media, including Country Life, and has Blue Flag awards. 
Dogs are welcome to roam the beach, and there are several nearby cafés and restaurants, as well as toilet facilities. 
Beaches in Scotland
Balnakeil Beach, Durness, Scotland
Travel northwest once you hit Durness and you'll soon come across the Balnakeil Craft Village. From there, just slightly further north, you will find Balnakeil Beach, up in the extreme north-western tip of the Scottish mainland. 
White sands and grassy dunes await you and your furry friend at this pet-friendly location. 
Beaches in Northern Ireland
Nicholsons Strand Beach, Cranfield, Northern Ireland
Just over a mile away from Cranfield Bay, lies the great sandy Nicholsons Strand Beach. The nearest town for amenities is Kilkeel, though the beach is backed by some large caravan parks – meaning that you can probably find somewhere nearby to book accommodation. 
Dog-friendly restaurants

 
Dogs aren't typically allowed in restaurants unless they are service animals, but the establishments that we're about to list are the exception to that rule. Like cat cafés, these dog-friendly restaurants are thinking about your pup, who they're sure you'd rather not tie up outside. Instead of searching the web for "dog-friendly restaurants near me", try one of these great places:
Restaurants in England
Maggie Jones's Restaurant, London, England
A well-loved restaurant in London that is designed to look like an old barn, Maggie Jones's welcomes everyone through their doors. Solo and group bookings are available, and furry friends can sit on the furniture and enjoy a bowl of water provided by the staff. 
There's even an entire Instagram story highlight showcasing different guests who have taken snaps of their dogs at the restaurant. 
Megan's by the Green Restaurant, London, England
For doggy service that's as good as the service provided to human guests, we highly recommend Megan's. Megan's is located on Parsons Green Lane, halfway between Chelsea and Putney. The restaurant has a range of treats available for dogs that can be ordered alongside any of your own food. 
There are also dog beds and bowls, so there's no need to worry about bringing anything with you when you visit. The staff will take great care of your pup. 
The Brown Dog, London, England
Situated near the River Thames, The Brown Dog is completely dog-friendly and more than happy to welcome your furry friend into their pub. They're a backstreet Victorian pub that has an ever-changing seasonal menu, so you'll be able to visit multiple times throughout the year to try new dishes that they have to offer. 
Horse and Groom, Kent, England
Starting with Kent's own Horse and Groom in Wilmington. Horse and Groom allow dogs both inside and outside the restaurant. They're based in the Cotswolds, too, which is great because it's a huge destination for tourists and locals. 
Bijou of Lytham, Lancashire, England
With a specially crafted dog menu and locally sourced food, Bijou of Lytham is a great café to visit in Lancashire. It's family-run, and each member of staff absolutely loves dogs of all sizes. 
Restaurants in Scotland
Singl-end, Glasgow, Scotland
In Scotland, you can hit up Singl-end. This restaurant is based in Glasgow and the staff there are extremely welcoming to all dogs. There are two branches of this Glaswegian café and bakehouse – one on John Street, one on Renfrew Street. The outdoor seating is perfect for sitting with your pup. 
Restaurants in Wales
The Bunch of Grapes, Pontypridd, Wales
With an outdoor beer garden area to relax in, The Bunch of Grapes in Pontypridd certainly has the right amount of space to share with dogs and humans, alike. The staff love their furry visitors, too!
Restaurants in Northern Ireland
Sunflower Public House, Belfast, Northern Ireland
Sunflower Public House is a bit different to the cafés and restaurants that we've listed so far. They're a combination pub and live music venue – but fear not! The music doesn't seem to bother any four-legged visitors and they quite enjoy getting some extra attention from the staff. 
There are even some little doggy treats available on request. 
Booking dog-friendly accommodation
Regrettably, there aren't too many hotels that are willing to have dogs as guests, but we can understand their reasoning. Thankfully, private accommodation like those on Airbnb and the apartments that can be rented on booking.com, Trivago, and the like, are more likely to be happy to have you and your dog as guests. 
Chain and high-end hotels aren't as open to allowing dogs as guests, so our advice is to stick to smaller accommodations rather than large hotels in city centres. We've dug out several of these here, and they're all near the restaurants and beaches that we've recommended above.  
Accommodation in England
Cornwall, England
Though we pointed towards Watergate Bay as one of the best beaches in Cornwall to visit with your dog, it's actually better to house yourself and your pup in central Newquay and travel north to the beach for your visit. Newquay has many more accommodation options; including an entire townhouse nestled near the coast above Porth. 
In Newquay, itself, you'll find the Airbnb listed "Pixie BBQ Lodge", which is a stunning hut that looks like it was pulled out of a modern fairy tale. There are also several private apartments and small hotels that allow pets in the same area, leading up the coast towards Watergate Bay from the centre of Newquay. 
London, England
London doesn't have any beaches, unfortunately. The capital of England is a mass of urban areas, but despite its lack of sandy shores, there are plenty of dog-friendly restaurants. The three that we named in this piece were Maggie Jones's, Megan's, and The Brown Dog. 
Maggie Jones's and Megan's are relatively close together. Maggie Jones's is right by Hyde Park, giving it an ideal location for tourists and locals that are travelling around the centre of London. Near the southwest of the park (closest to Maggie Jones's), you'll find a short-let studio flat, Baglioni Hotel, and Hux Hotel. These three are minutes from Maggie Jones's on foot! 
As for Megan's, the closest is Aragon House, which features a restaurant of its own, as well as a garden and bar. Megan's and Aragon House are in Fulham, extremely close to Parsons Green underground station in Fulham. 
Crossing the River Thames and heading over towards Barnes Green, The Brown Dog is caught between Barnes station and Barnes Bridge station. There aren't any establishments on Booking.com that will meet your pet-friendly needs, but Airbnb opens up a wealth of hosts willing to rent their properties to you within a decent distance. 
Accommodation in Wales
Wales
For Pembrokeshire, you'll find Barafundle Bay almost directly south of Pembroke, right on the coast near Stackpole. Accommodations are sporadically placed, but there are several apartments and cottages in the surrounding villages and towns. 
Dog parents that are looking to spend some time out in nature with their pup may enjoy looking at the various hotels and BnBs that line the Brecon Beacons National Park. There's also a number of holiday homes that are available in the same area. 
Accommodation in Scotland
Scotland 
Balnakeil Beach, just above the craft village of the same name, is quite far north in Scotland, but that doesn't make it inaccessible. There's a stigma that the highlands and just rolling fields but there's plenty of gorgeous places to stay, even if they become a little sporadic the further you go. 
Depending on where you'd like to stay in Scotland, you may benefit from using Airbnb rather than booking websites like booking.com and Trivago. For more rural areas like the highlands, Airbnb is better. For large cities and towns, booking websites are perfect. Remember to use the pet-friendly filter when searching!
Accommodation in Northern Ireland
Northern Ireland
Similar to Wales and Scotland, you'll find that private accommodation is more accepting of pets than chain hotels. You will also benefit from a more personalised experience instead of staying in a room in a hotel. 
There are around 200 places in Northern Ireland that will let your pet stay with you – and that's just on Airbnb. 
Where else to book
For pet-friendly holiday destinations, we highly recommend checking out Dog-Friendly Retreats, which is a website that lists places in the UK that you can take your dog with you on holiday. You'll be able to find self-catered cottages that are happy to have dog owners book with them for retreats across the UK.  
A few pet-friendly holiday destinations
Outside of dog-friendly accommodation, where can you take your pup to explore and run wild? Well, there are more places than you may think. The Lake District and Snowdonia are obvious ones, with great, wide-open spaces for dogs to enjoy. 
The Eden Project, Cornwall
The Eden Project in Cornwall welcomes all friendly dogs to visit their outdoor gardens. There are water bowls provided for pups, and an undercover dining area makes the perfect place for you and your furry pal to rest. 
Robin Hood's Bay, Yorkshire
Another quick beach area to add to our list, Robin Hood's Bay is very dog friendly. There are no restrictions on when you can visit with your dog, and Boggle Hole (a small cove covered by a wooded area) boasts some of the best views in Yorkshire.
Yorkshire Dales, Yorkshire
Up for a spot of walking? The Yorkshire Dales has a huge number of walking routes that will take you and your Fido all over the hills. Almost twenty of the routes in the area are completely accessible, too.